Sightseeing Bus Tour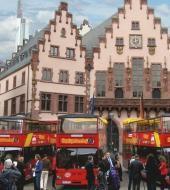 Discover the cosmopolitan city of Frankfurt during a 1 hour Frankfurt sightseeing "CITY TOUR" (without "Hop On - Hop Off") in a unique and unforgettable way. From the upper deck of the buses, you will have an amazing view of the most important and beautiful sights of Frankfurt!
Highlights of the tour:
St. Paul's Cathedral
Goethe House
City Hall "Römer"
Applewine District "Sachsenhausen"
Untermainkai
Mainkai
Hauptwache
Zoo Frankfurt, and many more...
The Frankfurt sightseeing tour offers you interesting and professional commentaries in 10 languages.
Duration: 1 hour (round trip)
Daily departures: Every 30 minutes
First departure: 10:00 h
Last departure: 17:00 h
The ticket will be sent within 24 hours in a seperate e-mail.

Send by email