Goethe House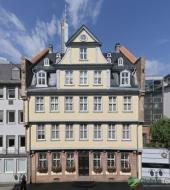 Discover the place where Johann Wolfgang Goethe was born on the 28th of August 1749 "at midday, as the clock was striking twelve", and where he grew up with his sister Cornelia.
Let us take you on a tour – floor by floor – of Goethe's family home.
What is more, a short history of the house and its residents can be found in the exhibition on the third floor.
Opening hours:
Monday - Saturday
10am – 6pm
Sunday and on public holidays
10am – 5.30pm
The museum is closed: 24.12., 25.12., 31.12., 01.01.2017
The entrance to the museum for children under 6 years is free.
The ticket will be sent within 24 hours in a seperate e-mail.

Send by email