Panoramic Boat tour with cruise line Weisse Flotte
The ship is moored on the Rhein riverside promenade, near the historical water level guage/clock.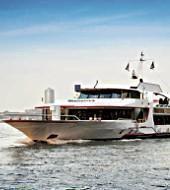 The first stop of the tour is the "Media-Harbour" (Medienhafen), then the river downwards to the Theodor-Heuss-Bridge and at the end of this beautiful trip, you will be able to enjoy the view on the Rhein Riverside Promenade.
During the whole journey free drinks are offered and a Guided tour in both English and German.
The departure times vary during the season by passenger traffic and weather conditions. Several consecutive runs throughout the day.
The tour can only be conducted, if the minimum participation of 25 guests is reached.
Panoramic boat tour:
Season 2016 (19th March to 23rd October)
Begin:
During the week from 1:00 pm (afterwards every hour).
On the weekends and public holidays from 11:30 am (afterwards every half hour),
End: 6:30 pm depending on weather conditions and amount of participants.
Duration: Sightseeing tour 45 minutes driving time.
Included services: ALL INCLUSIVE on board after boarding on your excursion boat (beer, wine, soft drinks, tea and coffee).
You find the drink menu here.
Meeting point: From Riverside promenade / water level clock
The ticket will be sent within 24 hours in a seperate e-mail.

Send by email