Hop-On Hop-Off City Tour
Hop on and enjoy the highlights of Düsseldorf! Our open-top double-decker bus will make exploring the city a true experience.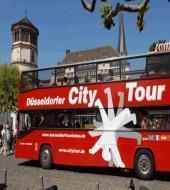 The tour lasts approx. 90 minutes and will take you right around and through the city center of the vibrant metropolis on the Rhine. The modern Hop-on Hop-off concept allows you to get off at any stop and explore your favourite spots at your own leisure. During the route, learn more about each attraction and the history of the city through earphones (ten languages) or from live tour guides.
In bad weather conditions the top is closed.
We offer both 1 day tickets and 2 day tickets for the Hop-On Hop-Off City Tour.
Please note that:
- between 25.03.2016 and 23.10.2016, the 2 day ticket also includes a 60 min. boat tour!
- in case of 1 day tour for every paying adult 2 children aged 4-13 travel free!
- with your Düsseldorf Card, you will have a reduced price on the 2 day tickets!
Probably no city tour on the following days:
04.02.2016, 08.02.2016, 24.04.2016, 26.06.2016, 17.07.2016, 24.12.2016, 25.12.2016

Send by email